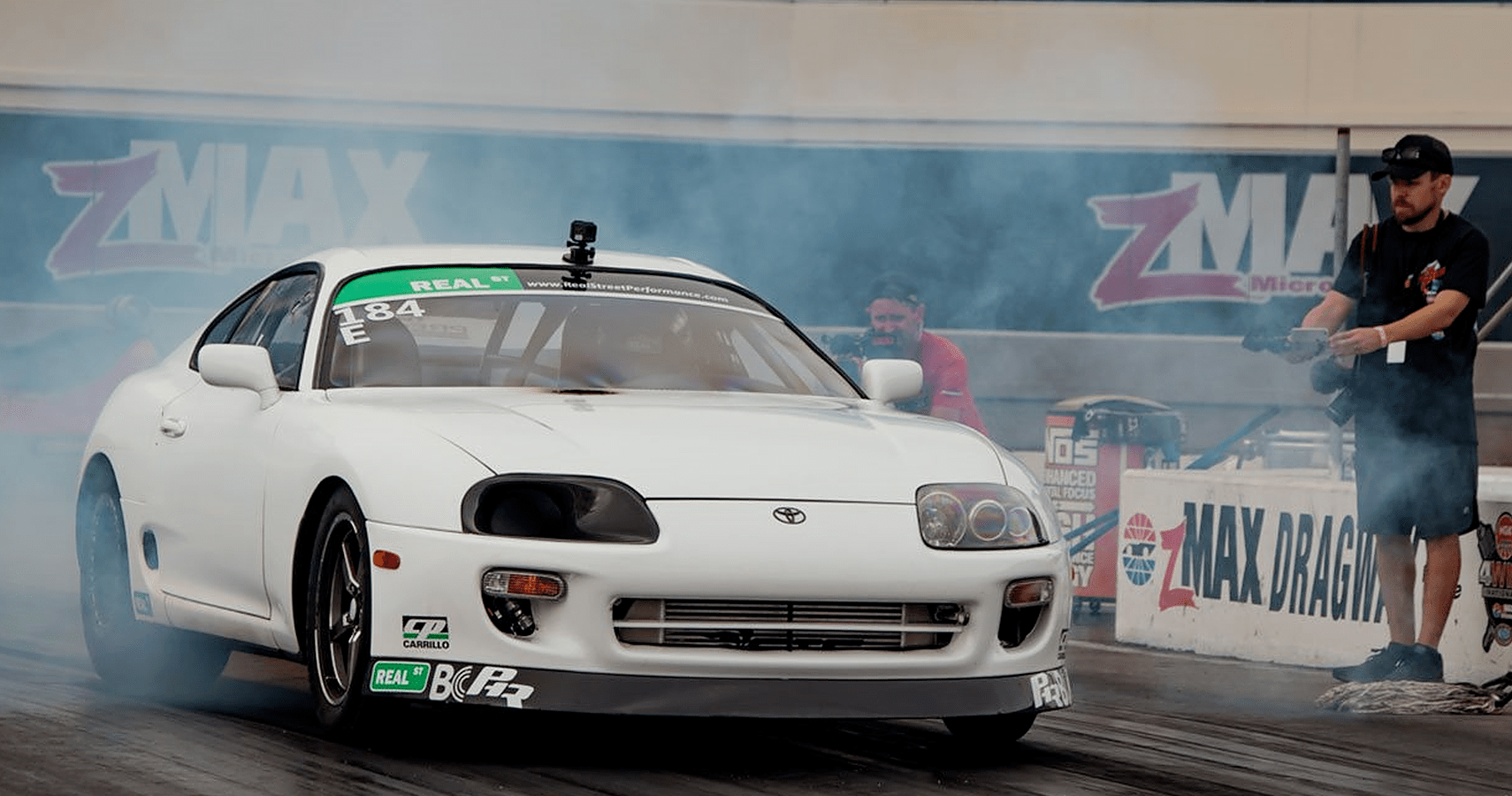 2000HP Supra Dominates Rocky Mountain Race Week And Its 1200 Mile Journey
The driver and his white Supra went on to win his class, finishing with an average time of 7.6338s and the fastest mph of the event at 203mph.
Rocky Mountain Race Week is an intense four day long event where drivers drag race some of the fastest street cars in the country and then drive hundreds of miles to the next track. It's a grueling task for both the cars and the drivers, as it often results in lots of break downs and sleepless nights. The guys at The Racing Chanel were able to catch up with the team from Real Street Performance and a pair of beautiful Toyota Supras. With the 2,000 hp white Supra driven by Giovani Castillo and the grey Supra driven by Jared Holt, the team competes for glory and endures many hardships as is very common for events like this.
A Quarter Mile At A Time
The team encounters a lot of difficulty with traction on day one at Tulsa Raceway Park. Luckily nothing as dramatic like this McLaren 720s' near crash experience happened, but it was enough of a problem that they left that night hoping for much better luck later in the week. Day one resulted in Geo finishing with a time of 8.001s, and Jared with a time of 7.906. These times were good enough to put them at the top of their classes, but definitely a bit slower than these cars are capable of running.
After a long day of racing, they then have to prep the cars for the 215 mile journey to the next race at Heartland Motorsports Park in Topeka Kansas. On day two of the event, Jared experienced some fuel trouble causing the Motec ECU to shut the car down due to loss of fuel pressure. Luckily enough, it was a quick fix as the tank fuel pump was unplugged which caused the car to run out of fuel in the surge tank.
Much like in an episode of Roadkill, you can't make this stuff up. As many drivers in the field battle animals crossing the street, Jared is among that group as he hits a racoon on their way to the third track, tearing open a transmission line. Thankfully, they are able to get it fixed and go on to make their best passes of the event with Jared and Geo turning in times of 7.552s and 7.242s respectfully.
RELATED: Here's Why Drag Racing Is Harder Than Everyone Thinks
Just The Way She Goes
Unfortunately, after riding the high of running his best time of the event – while stopped with a group of racers after encountering more wildlife troubles – the team noticed a severe problem with Jared's Supra causing one of the cylinders to fill with water. Suspected as a cracked head, Jared was unfortunately unable to finish the 1,200 mile journey and participate in the last day at the track. He was, however, still able to celebrate the fact that before this, he was dominating his class, and also that Geo went on to win his class finishing with an average time of 7.6338s and the fastest mph of the event at 203mph.
NEXT: 67 Year Old Gooses 3,000 HP Camaro To 200 MPH At Rocky Mountain Race Week
Source: YouTube
How Much Are Cheap Supercars Worth As Rentals?